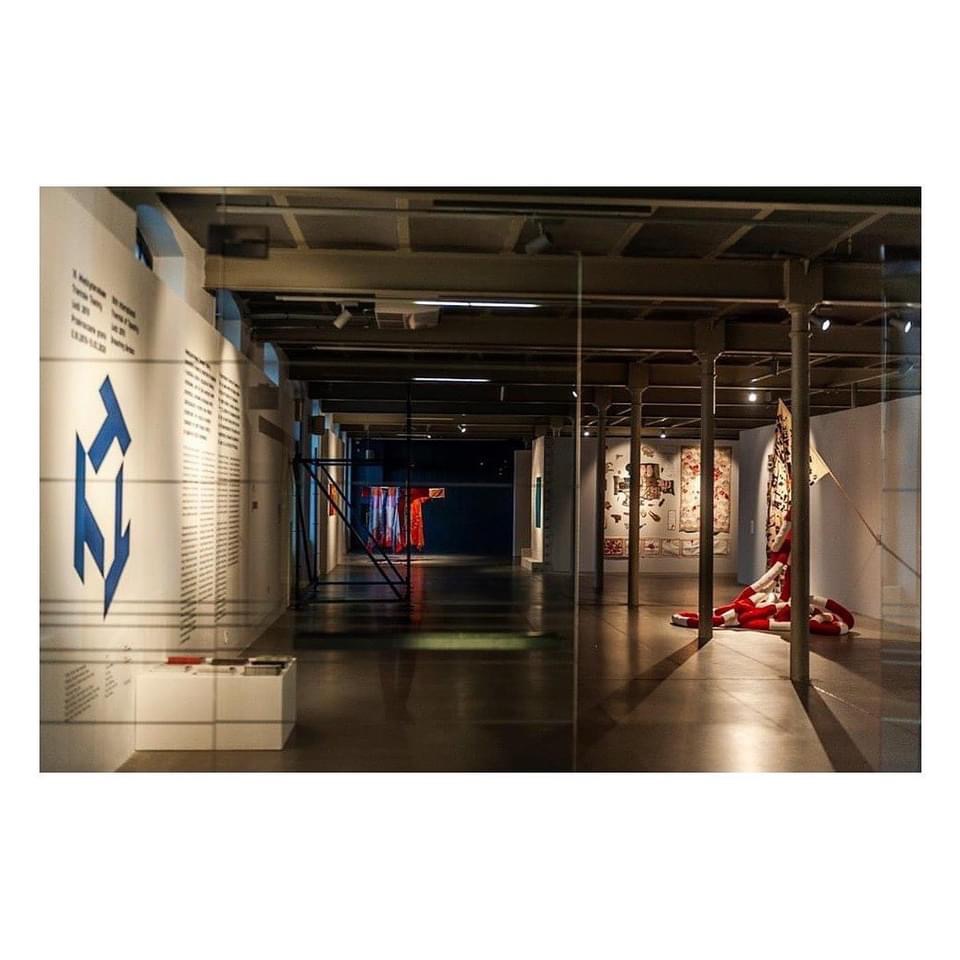 Dividing Lines; The Flag and The Knot, 2019, knot: cotton fabric, elastane, polyester, aluminum wire, about 115 x 80 x 80 in (292x203x203cm), flag: unbleached cotton muslin fabric, vinyl, wool floss,
110 x 79 in (280x200cm)
1.front view, 2-3. exhibition view, 4. knot detail, 5-6. curatorial walkthrough, 7. exhibition entrance view
The Flag and The Knot project is focused on ten of the most challenging borders in the world. The flag depicts the infrastructure spaces related to border crossings, travel, and border protection. The structures presented on the map are both military and civil, such as airports, camps, and military bases. The map is made in a hand-printing technique on muslin. The borderlines are hand embroidered on fabric with red stitching. The Knot has been based on the border of Poland on a scale of 1:160000. The project takes a form of a soft sculpture tangled up in a knot referencing the complex history of the Polish borders and an increasingly harsh, anti-immigration sentiment. The issue of immigration has become the subject of a heated political debate—the intertwined lines of the border reference the proverbial Gordian Knot. The lines are painted red and white to reference the internationally used color pattern for marking borders, barriers, and barricades.

---
Central Museum of Textiles, Lodz, PL
Exhibition history:
︎"Breaching Borders", Central Museum of Textiles, 16th International Triennial of Tapestry, curated by Marta Kowalewska, Lodz, Poland, October 7, 2019 - July 26, 2020
Bibliography:
︎Contemporary Lynx, "Triennial of Tapestry-Online Viewing", March 24, 2020 ︎ pdf
︎Exhibition Catalog, Central Museum of Textiles, October 2019
︎Tramemos 67 Centro Argentino de Arte Textil, January 2020 ︎pdf