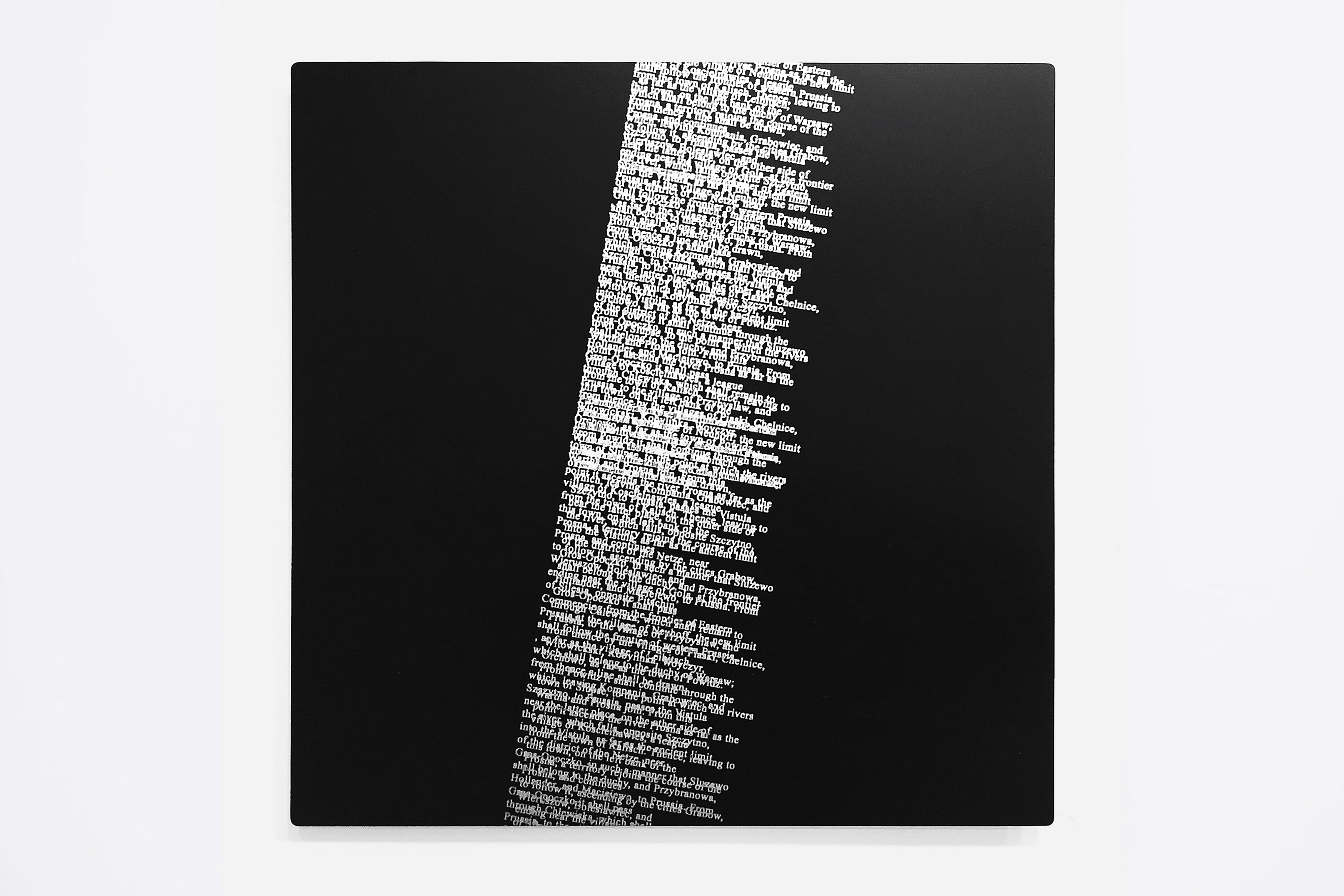 Dividing Lines: The Partitions A and B, prints on brushed metal, 30x30cm (12 x 12in) each, in 2 versions, 2017
1. front view, 2.exhibition view 3. close-up
Works in
Dividing Lines: Partitions A and B
refer to the historical, political, and cultural distinction between Poland's Western and Eastern parts. After the country's three partitions in the 18th century, western Poland became part of a rapidly industrializing Prussian empire, and backward tsarist Russia controlled central and eastern parts of the country; Poland thus reflected Europe's East-West divide. The distinction A and B is unofficial, but it is widely acknowledged and discussed. The differences between the western and eastern parts of the country are still evident (social capital, cultural capital, political preferences, wealth, industrialization, migration patterns, etc.).
The works looks at how the different policies of the partitioners resulted in the much larger industrial development of the western partition. The relative density of the railway network reflects the divide: thick in the west, sparse in the east. Today, the implications are still very much visible. The investors coming into the country choose to have their factories set up in the west because of the better transport possibilities, thus creating more job opportunities in the western parts of the country. However, transport links, particularly a poor road network, remain a problem for the eastern area.
One of the works presents a description of the unofficial fourth partition of Poland, which led to great turmoil and russification. It is derived from the 1815 Treaty between Russia and Prussia (Congress in Vienna). After that event, Russia gained a much larger share of Poland, including Warsaw, which was an autonomous Dutchy of Warsaw until that time. From then on, people faced confiscation of property, deportation, forced military service, and the closure of the universities.
---
Exhibition history:

︎ "Minimal Impulse", Balzer Projects Gallery + Le Guern, Basel, Switzerland, Jun. 14 -Jul. 16, 2017
︎"Visual / Virtual", Noyes Museum of Art, Atlantic City, US, Aug.25 - Oct. 15, 2017
︎"Cardinal Plains", Gallery Korea, Korean Cultural Institute in New York, US, May 16 - Jul. 6, 2018


Bibliography:
︎Catalog of the exhibition Cardinal Planes, Gallery Korea, Korean Cultural Institute in New York, 2018
︎Catalog of the exhibition Visual/Virtual, Asian Artists Association of USA and The Noyes Museum of Art, 2017